BioFlex Laser Therapy
First Meditech BioFlex Laser Clinic in Israel
The perfect complement to manual therapy, BioFlex Laser is highly effective in recovery from muscle and joint pain injury.
Clinical Benefits
Laser therapy complements manual therapy.
Combining laser and manual therapy is more effective than either alone.
Research supports laser therapy for neck and back pain.
Allows treatment for acute conditions where manipulation is contraindicated or not easily tolerated by the patient.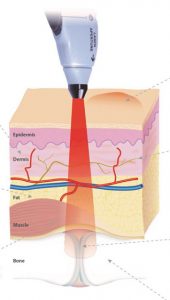 The clinical effects of laser therapy include:
Rebuilding blood supply (angiogenesis). This will increase oxygenated blood to the injured area and accelerate tissue healing.
Treating inflammation and swelling (oedema). An increase in inflammatory mediators (white blood cells) that accelerate and resolve the inflammatory process.
Nerve regeneration. Promotes nerve recovery.
Cartilage formation. Improved cartilage deposition and joint healing.
 Collagen production. Reduces scarring and promotes elasticity.
 Muscle regeneration. Repairs damaged muscle fibres and tissue.
Bone formation: Accelerates bone repair after fracture.
Conditions treated by laser therapy:

Whiplash injuries
Shoulder problems
Tennis and Golf elbow
Carpal tunnel syndrome
Hip bursitis and arthritis
Knee pain
Ankle sprains
Muscle tears and sports injuries
and more